Click Image to view on Google Maps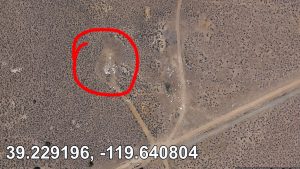 Even with a skeleton crew, we managed to eliminate a nasty pile in Mound House. This area is known for scattered used needles from a troubled gentleman who was squatting there for some time. But luckily, the only needles we found in this particular spot, were sealed in a Sharps container. There are still scarier spots nearby.
Glenn Nisidio, I'm sorry I doubted you on this one. Good scouting. And thanks for scouting next week's run in Dayton.
We loaded a couple trucks and a trailer with all sorts of garbage, stacked the tires for later, and called it a day, as we took the back trails back to the transfer station in Dayton.
Also while there, we made friends with a snake, took a mattress away from a lizard, made dirty jokes about some tea bags Paula found,
Just now as I'm writing this, it occurs to me that we should name these spots as we conquer them. So I'll start with this one.
I hereby name this spot…
Roger Court
Conquered: Sunday, April 28, 2019
Location: Mound House, NV (39.229196, -119.640804)
Approximate Time Spent: 2.5 hours
Volunteers: 8
Cost: 2 vouchers